So if I am honest I never grew up celebrating St. Patrick's Day. I always figured it was for drinking beer, kissing complete strangers, and eating green food. Rainbows, Leprechauns, and sour kraut is about the extent of my St. Patricks day knowledge but with kids it makes me want to further my experiences, try new things, and mostly find excuses to celebrate life. I did some research and what I found surprised me.
Saint Patrick was a man who brought the gospel to Ireland and used a three leaf clover to explain the trinity of God to the people. When he died on March 17th it was then celebrated as a holiday and festivities were thrown.  Lent was lifted encouraging alcohol consumption and eating and dancing and partying and well that's where spectrum comes into play. I loved though that at its core faith in God was what started this holiday. Yes Ireland was celebrated and yes food and fun, but really God was the original reason and that makes me want to celebrate with my kids. I am not Irish, but I am a Christian, and I can totally get behind teaching my girls about this holiday.
So what does one do for their first ever St. Patricks Day party? You eat treats, you make rainbow crafts, and you eat Irish knock-off food like Lucky Charms and Skittles.
Rainbow Sculpture Craft

Fine Motor, Color Sorting, Pattern Recognition
Pipe Cleaners
Beads
Clay
Chunky Glitter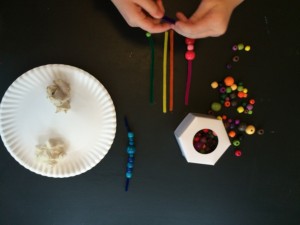 Have your child separate the beads into color piles of the rainbow.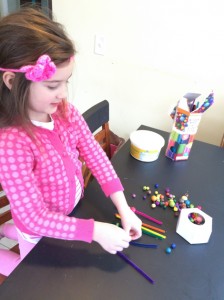 String the coordinating pipe cleaner with the beads to match. (our littlest tried her best)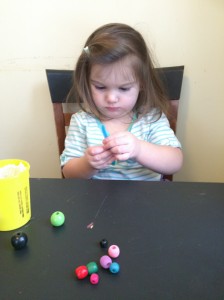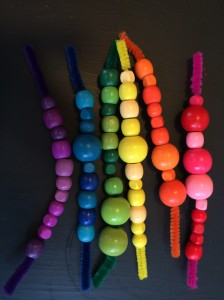 Form two clouds out of clay and sprinkle with glitter.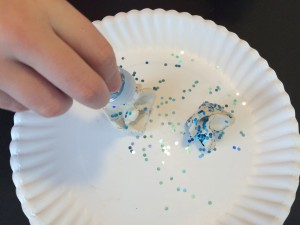 Stick the pipe cleaners into the clay.
End with an adorable rainbow sculpture for keepsake!
 Rainbow Wand

Great practice for tying knots and using scissors.
Wooden dowel rod
Rainbow colored ribbons
Hot glue gun
Polyfill stuffing
To start choose a fun ribbon to wrap around the entirety of your dowel rod. I choose silver ribbon and did glue dots up the rod to then secure the ribbon as I twisted it on. This portion of the project I did not have my child help me with at all. In retrospect she could have painted the rod and done this herself.
Next hot glue the polyfill stuffing onto the top of the wand to make a cloud like poof.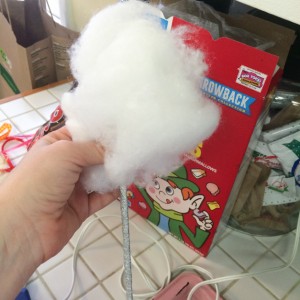 Next collect odd and end ribbons, fabrics, or trimmings to have your child cut and then tie onto the wand.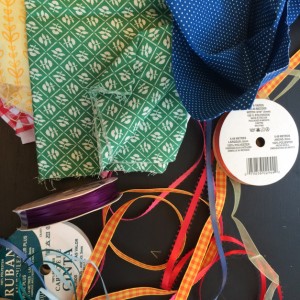 End with a cute Rainbow Wand to finish and use for imaginative play.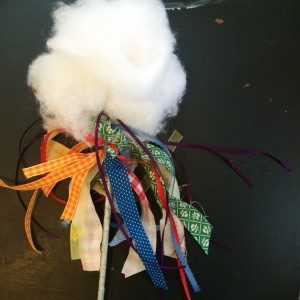 Four Leaf Clover & Rainbow place mats

Creative, fun, colorful painting projects
Green pepper
Green, yellow, & white Paint
Large heavy weight paper
Paper Plate
Mixing Spoon
Paint Dotters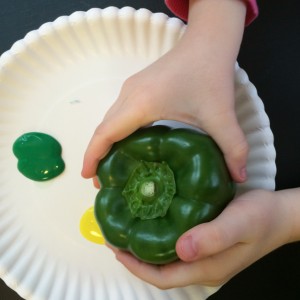 To start cut a pepper through the middle to create a four leaf clover stamp for your child
Place the paints onto the paper plate for your child to mix and create tints and shades using the plastic spoon for mixing and experimenting.
Once they have the perfect green have them dip the pepper into the paint and stamp it onto their paper.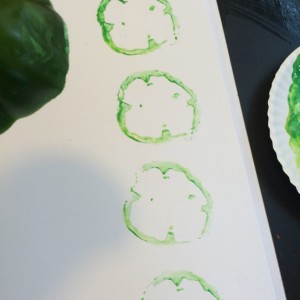 With their hands or a paint brush have them draw stems for the four-leaf clover.
Allow to dry and then use for festive place mats for your St. Patricks family meal.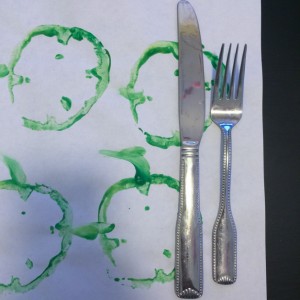 To make the rainbow version of this I simply gave our youngest paint dotters that I purchased from target and let her make her own rainbow placemat for dinner. It was less mess for me and it ensured she didn't eat the pepper with paint all over it!
Edible Rainbow Necklaces
Ikea  Kids bowls
Plastic Plate
String
Scissors
Box of Fruit Loops
To start cut your child a piece of string to be used for a necklace and tie a large knot on one end. Then place out your rainbow bowls and have your child organize the plated cereal to then be arranged into the colors of the rainbow.
Our girls have never had "sugar cereal" so they literally were so pumped to be eating this while working! We stopped mid beading to have a bowl of cereal.
To challenge our oldest I asked her to make a rainbow pattern necklace and she ended up doing a great job remembering what colors go in order.

And finally the cute little St. Patricks' Day Edible Rainbow Necklace!