This was a fun one day for everyone! Gabriel came with a good news delivery for Mary & our family.
I simply tied him up with some bakers twine and propped Mary up on our radiator near him. I used some two sided tape to attach a letter to his hand and it told good news to Mary about her having baby Jesus.
I then had a letter for our oldest with her good news. Pedicures with her Oma and lunch at Panera. We had a girl day shopping afterwards and just loving on one another. I don't know about you but even sometimes with adults you get so much stuff on the day of Christmas that sometimes when you give your gift it seems lost and just sort of added to the pile. So I liked that I was able to gift my mom this little time and gift of lunch and nails before Christmas. This way when the day of Christmas comes I can give her something little without it feeling lost among the shuffle.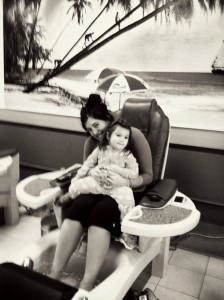 Very Merrily,
Ashleigh Harris