Would Christmas be filled with cheer without decadently frosted cookies? Would it be buzzing with excitement and restless nights without gifts wrapped in bows under a tree? Would it be magical without lights twinkling?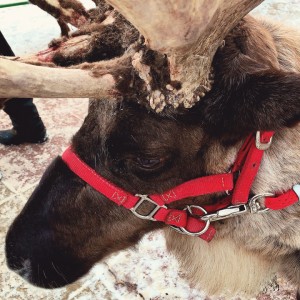 I've been asking myself these questions as I sort through the mound of gifts in our three-season porch and organize what is for who? I think about the years our family has scraped by and barely bought our first child a gift. I think about the year, more recent, when we have given our children much. And now this year, I think about if there is really a difference between the years of when we give a lot or a little? Was one year less magical then the last? What if no cookies were baked, cards sent, or presents wrapped. What if that fat jolly man didn't fly reindeer over your home and what if no elf sat on a shelf? Would Christmas magic still exist?
I thought about the fourth of July and how it doesn't feel like the 4th without hotdogs, a lake shore, being with friends and family playing lawn games and of course fireworks. The years I had to miss fireworks it didn't feel the same. But should Christmas be the same as all other holidays? Should I feel like Christmas just isn't the same without all of the stuff?
The answer I want to give is that the Christmas "magic" would still be fully and completely calling and captivating our hearts, filling us with so much hope that it spills over into our lives with the greatest gift of love and acceptance and unity. But the answer deep inside says, "No" – Christmas needs stuff to be special.
I didn't like my honest answer but, I went to God with it and this is the message I found to wrap me up tight like a winter scarf.
 When the stress of our artificial Christmas magic overtakes our joy then our spirit leads witness that we are missing out on the true magic of the Christmas season. The magic of the Christmas season that always fills us up with hope, reassures us of our worth, and surrounds us in love.
Lamentations 3:22-23 – "The steadfast love of the LORD never ceases; his mercies never come to an end; they are new every morning; great is your faithfulness."
I came to the realization that God never needed to wrap up the gift of salvation in the form of material things. He never needed to impress us to win our hearts. His motivation was love, and in it He sent the King of Kings to earth in a manger, to a poor family, and said "Merry Christmas to all and to all a good night".
While I still plan on doing festivities this Christmas season, I can honestly say that I want my heart captivated by the true Christmas magic that refreshes me each morning. My prayer is to recognize the difference between the two.
Very Merrily,
Ashleigh Harris